Loves to buy books, the older the better, but hates selling them.  Positions chairs, rugs and displays in their proper locations.  In short, Brenda is the proprietor's mother.
Christine is a former YA librarian, archivist, and armchair Cleveland historian. She enjoys reading about mythology and folklore, ancient mystery religions, and anything that lampoons modern American culture. Christine is also the editor-in-chief of The Cleveland Review and a 2012 recipient of the Cuyahoga Arts and Culture Creative Workforce Fellowship.
Harriett started Loganberry Books in 1994, acknowledging that what she liked best about perpetual school was the physical objects called books. Her personal biblio interests range from Robert Lawson to Virginia Woolf and various and sundry illustrated editions of Alice in Wonderland and old lepidoptera.
Otis joined us in the spring of 2008. Harriett was leaving for work when all of a sudden a very loud grey-and-white kitten appeared and demanded a job in book sales. He was very persuasive and Harriett decided to offer him a position. And that is how Loganberry Books became "the bookstore with the cat."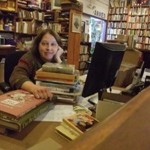 Rebecca
Out-of-print specialist
Rebecca has spent a checkered career reading as much as possible, to the detriment of any other activity.  She spent many years as an announcer and interviewer for classical music radio, and has been known to commit theatre on various occasions.  She is married with 2 teenagers.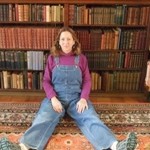 Sarah
Book Club and Fiction specialist
As our resident local author, Sarah is in charge of the LitArts room, which includes all of our literature and genre fiction.  She shelves the copious incoming inventory, and helps customers find the perfect read (even if she does tend towards dark and depressing tales herself).  She also manages our monthly Book Club, sending books out to happy readers in Cleveland, Boston, and even Australia.