I'm looking for a children's picture book. Probably published between 1994 and 2004, a square white book, where … There's a monster/bird/caterpillar? kind of thing that seems to grow … I remember the illustration being swirly, watercolor like with say leaves and feathers that get caught up in it as it grows???
Not Monster Mama but those colors and blurriness are on a similar track … Not a very hungry caterpillar, those colors are right but the illustrations aren't cut paper…
What brings this book to mind is this fabric: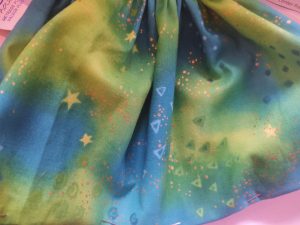 Do you think we have any chance of figuring it out?