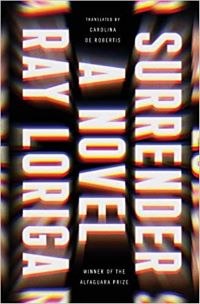 I loved Surrender by Ray Lorica, which just came out.  It's a strange and disturbing novel about a dystopian future in a fictional country, ten years after a war that no one understands. The whole novel is narrated by one man, without a bit of dialogue, just a telling of what's happening to him, which might not be the truth. The narrator is unreliable, possibly lying to himself, and the reader must interpret the truth. He and his wife live in a house in a rural locale, they are under strict rules of isolation, his sons have gone off to war and have never returned, and one day a mute boy walks onto their land. And then everyone is rounded up and sent to The Transparent City, where the walls are all made of glass and everyone can see everyone, all the time. His relationship with his wife, and the mute boy, as well as his understanding about this society, are all put to the test.  
There are so many different ways to read this novel—what it says about governments, privacy, our need to feel safe and secure, and what we are possibly capable of doing to each other, and ourselves.
Surrender may not be for everyone, but if you loved Blindness by Saramago, or feel the need to read fiction that speaks to what our world might become, read this book.
Sarah Willis