2004 Exhibits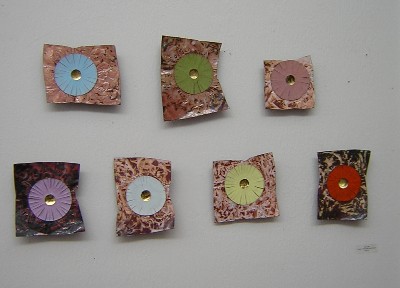 December 3-31, 2004
Robare and Spencer
Essence of Life
This double show features digital art renderings by Carolyn D. Robare and enamel works by Katherine R. Spencer. An interesting mix of surrealist photography with earth-toned copper wall sculptures.
---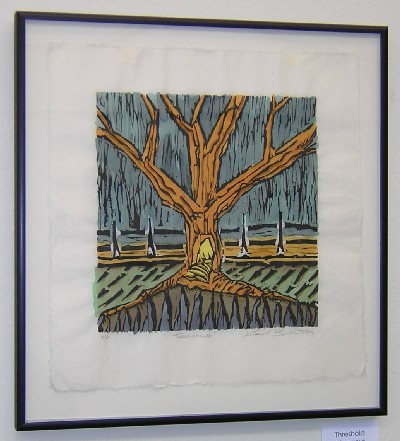 November 5-30
Karen Beckwith
Works on Paper
Karen is a master printmaker. This exhibition focuses on some newer works, mostly monotypes and woodcuts with watercolor. She had some wonderful trees and abstract compositions; here are a few highlights.
---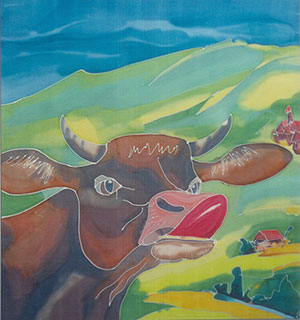 October 1-30
Gunter Schwegler
Unexpected Philosophies
Gunter's paintings on silk evoke pastoral calms, swirling botanicals, fastastical castles, colorful abstractions, as well as this bah-humbug cow. Ranging in size, Gunter's silks will fill the clerestory's height and float down to the ground. Come be enchanted with color and texture.
---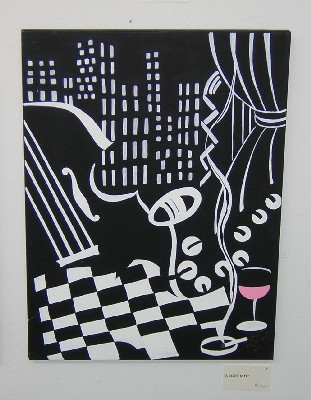 September 3-27
E'rl Lumpkin and Larry Tinsley
Two different artists share the Annex Gallery in September. E'rl's work focuses on line and form, creating a sillouette effect, or shadows of light in the darkness. His smaller pieces are colorful renditions of the same focus on form. Larry's work ranges from splashes of abstraction to masterful details of portraiture. He joined us for the Sidewalk Sale, drawing caricatures of customers.
---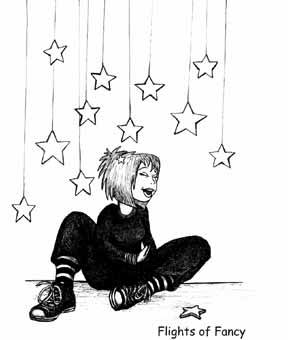 July 30-August 28
Kelly Stamblesky
Wings of Fancy
Kelly is a window designer and employee at The Dancing Sheep down the street from Loganberry, and was excited to have her own exhibition for whatever struck her fancy. Moons and galaxies, Dark Caroline and angels, flying butterflies and pillow fights, and scenes from Alice in Wonderland… it's a fantastical treat.
---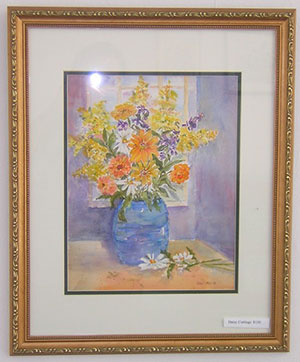 July 2-June 27
Lynn Miller
Watercolors
Lynn Miller has studied watercolors for a few decades as a sideline to her career in elementary education. These flowers and landscapes are a few examples of her work, and bring a fresh and airy look to this summer's Annex Gallery.
---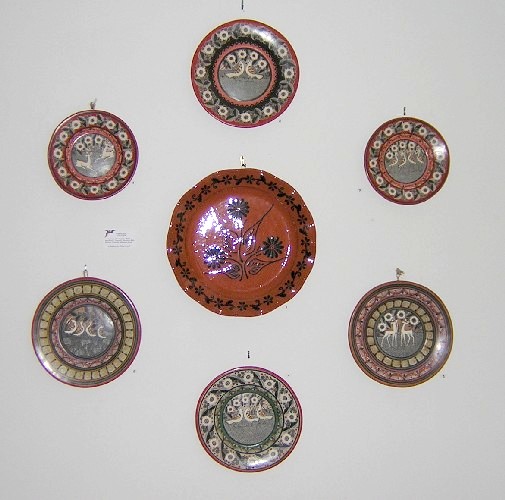 April 23-June 27
Galeria Quetzal
Hispanic Folk and Fine Art
This exhibit features a variety of art from Paloma Pilar Grasso's Galeria Quetzal. Hand-picked treasures hail from Cuba, Guatemala, Haiti, Mexico, Peru, Spain and Portugal. The Opening Fiesta on Saturday, April 24th will include a talk by Paloma on Searching for Latin American Folk Art; and the Closing Fiesta on Saturday, May 29th will include a talk on Travelling in Latin America. Both Saturday talks will be at 3:00 pm. Extended until June 27th!
---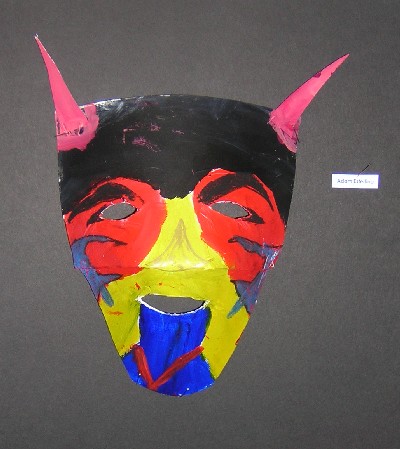 April 7-21
Laurie Garrett's Making Art Student Exhibition
Laurie has been teaching 3 classes of young artists grade 2-5 in drawing and mixed media. Relocating her teaching studio to Strong Bindery and then to the Annex Gallery means that more classes are coming (stay tuned for more info). This is the public exhibition of the winter session.
---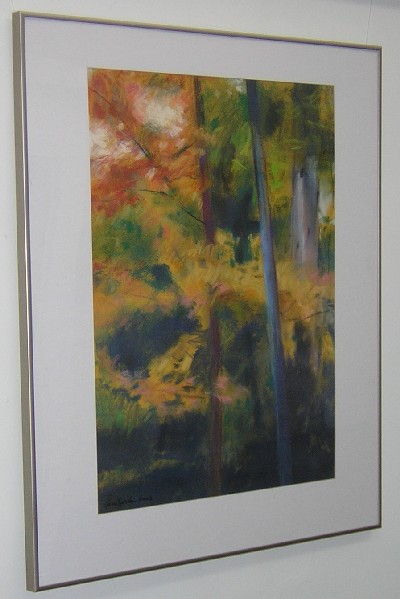 January 30-April 5
Gene Epstein
Pastel Landscapes
For the combined Grand Opening of Loganberry Books and Strong Bindery in our new building, Gene Epstein graced the walls of the Annex Gallery with recent pastel landscapes of local parks and vistas.
---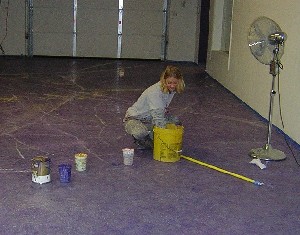 January 23-29
Jenny Hitmar: Floor Marbling
I suppose it was just this vision I had… purple marbled floors. I thought it would help transform a garage into a respectable gallery space, so I hired scenic artist Jenny Hitmar to work her magic with paint on the concrete floor. Alone, it's quite a piece of art, and in context, it lends sophistication and respect to the Annex Gallery.
---
Annex Gallery Archives