2012 Exhibits

January 5 - 30
Opening Reception: Thursday, January 5, 6-8pm
John Martin: New Works
John Martin is a retired businessman who has been a full-time artist for the past 5 years, as a student at Cleveland Institute of Art and other organizations. He is a long-time Shaker heights resident, transplanted a few years ago to Cleveland Hts. These imaginative monoprints are figure drawing in abstracted form. Come meet the artist and enjoy refreshments during the opening. The works are framed and will be available for sale during the show.
---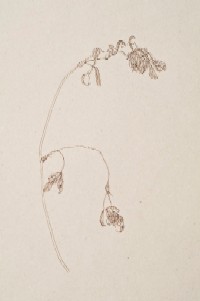 February 2 - 27
Opening Reception: Thursday, February 2, 6-8pm
Carla Fontecchio: Collection Studies
Reminiscent of 19th century botanical illustration, Collection Studies is a series of works on paper that delicately portrays a selection of common plant specimens gathered throughout the Cleveland area. Reverently depicted on handmade paper, these pen and ink portraits visually convey how incredibly complex the most common natural specimens may be.
---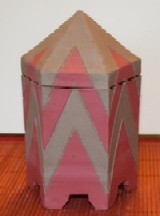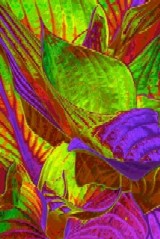 March 1 - 31
Opening Reception: Thursday, March 1, 6-8pm
Frederick Snowden and Christine Lang: Reflective Natures
Both Fred and Christine experience the creative endeavor as a meditative state and use nature as their muse, although the end results can be quite different. Via a collection of ceramic, pastel and photographic work they invite you to extend the artistic process by reflecting upon your own response. How does it inform your personal relationship to art and its place in your life? Does something strike you or take you by surprise? They look forward to learning what you experience as an active participant.
---
April 5 - 30
Opening Reception: Thursday, April 5, 6-8pm
Altered Book Group: Identity
We have explored who we are as individuals and how our culture affects how we think of ourselves. We looked into the ways our gender has helped form our outlook and the way we position ourselves in society and the world. We have analyzed how relationships within our families and social groups influence our sense of who we are. These thoughts are expressed in this year's altered books.
---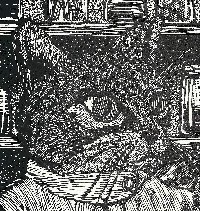 May 3 - June 4
Opening Reception: Thursday, May 3, 6-8pm
Barry Hoffman: Words and Pictures: Wood engraving, Type and the Printing Press
A collection of wood engravings used as illustrations for books and posters inspired by the works of Kafka, Kurt Vonnegut along with works inspired by the Calaveras of Jose Guadalupe Posada.
---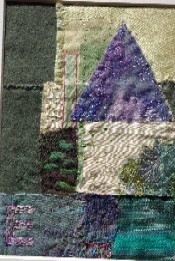 June 7 - July 2
Opening Reception: Thursday, June 7, 6-8pm
Anne Weissman: Collage Studio: Combining Textiles and Printmaking
A textile artist, printmaker, and photographer, Anne Weissman uses innovative combinations of materials and techniques in her collage work. Handstitching, monoprinting, frottage, and suminagashi marbling are some on the processes she employs to make wall pieces, one-of-a-kind artists' books, and magical glass paperweights.
---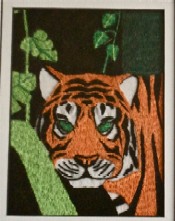 July 5 - 31
Opening Reception: Thursday, July 5, 6-8pm
Eugenia Vainberg: Painting with Thread. Passion for Embroidery.
Eugenia Vainberg learned the art of embroidery as a child of eight in her native Ukraine. After a long break, her love of the fiber arts was rekindled following her emigration to the United States. Of her work, the artist says, "Colors are music to me. Tonalities of colors, shades and hues create the feeling of melodies in me. Embroidery became an important part of my life, a way of self expression and reflection. It is very exciting to translate from the languages of different media into the tongue of embroidery." Eugenia's work draws its inspiration from the theater, ballet, music, literature, and the natural world, but her particular passion involves re-interpreting Russian avant-garde art using the medium of thread and linen.
---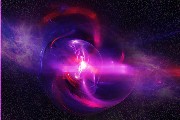 August 2 - September 3
Opening Reception: Thursday, August 2, 6-8pm
Benjami Arrington Bey: Cosmos
Through the use of spray-paint and air brushing and computer graphics, Benjami brings you his idea of what other planets, solar system, and nebulas in this vast cosmos might look like. With the strong vibrant colors of spray paint and the control of air brushing brings out very intriguing scenes of planets and stars. We may not be able to leave this planet but we can still enjoy the view.
---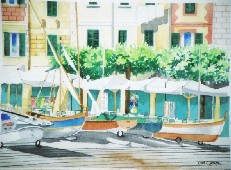 September 6 - October 1
Opening Reception: Thursday, September 6, 6-8pm
Sarah D. Johnston: Fromage, Baguettes, and Prosecco
Sarah has traveled extensively in Northern Italy and France. Her art is inspired by the light and architecture of these beautiful and romantic destinations. Each watercolor is a story capturing the color, light, and movement of that moment in time.
---
October 4 - 29
There will be no show in October. Please visit us in November for Otis' Curiosity Shop.
---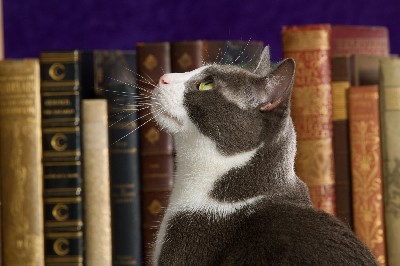 November 15 - December 31
Artist Reception: Thursday, December 6, 7 pm
Otis' Curiosity Shop
Back by popular demand! Our second annual Otis' Old Curiosity Shop will be open during the months of November and December in the Loganberry Books Annex Gallery and will feature these gift-giving favorites:
New toys, games, and knick-knacks
Holiday cards and calendars
Local artist crafts and prints
Vintage collectibles & curios
Stay tuned for more information!
---
Annex Gallery Archives