2009 Exhibits
December 3 - January 4
Opening Reception: Thursday, December 3, 6-8pm
Ted Kurz
Larchmere & Beyond: Scenes of Larchmere Neighborhood
Ted Kurz was an architect with an office on Larchmere for 30+ years, but he's worked with watercolors for longer than that. Come see his realistic watercolors of Larchmere and Cleveland scenes and see how many vistas you recognize. There's something comforting and familiar, perhaps nostalgic, about a watercolor, even if the scene depicted isn't that old. Come see what I mean.
---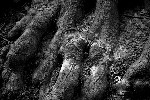 November 5 - November 30
Opening Reception: Thursday, November 5, 6-8pm
Lauren Pacini
Extended Dynamic Range: Beauty in Black and White
The exhibit will include selected pieces from three of the photographer's series – Guardians of Our Heritage, Across the Water, and Trees: Up Close and Personal. All of the work strives to capture what is seen by the eye – not by the camera. Lauren is a long-time resident of Shaker Heights; best known for his nature photography. In a brief gallery talk, Lauren will discuss his approach to extending the dynamic range.
---
October 1 - November 2
Opening Reception: Thursday, October 1, 6-8pm
Barb Bonchek
Dizzy Art
Barb Bonchek's Dizzy Art designs are all hand drawn with no mechanical means. But you might have to take a step closer to verify, and then a step back to re-orient yourself. It's called Dizzy Art for a reason, but is that reason visual or psychological? All those tiny lines… It's worth a second look.
Framed original art pieces, prints, and cards will be available for purchase during the show.
---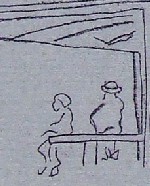 September 3 - 28
Opening Reception: Thursday, September 3, 6-8pm
Susan Vincent
Arizona Sketchbook
Originally Susan Vincent said she would fill the Annex Gallery with her quick sketches from trips to the Grand Canyon and other points in Arizona. But she has some new work that she's eager to show, so the exhibition will feature these new works instead. I don't have any other details -- so stay tuned, or come to the opening and be surprised!
---

August 6 - 31
Opening Reception: Thursday, August 6, 6-8pm
Joan Lederer
Portraiture
Joan Lederer has been taking portraits with her camera for years now, and she promises to engulf the Gallery with a sea of faces. Old, young, happy, sad; white, black, funny, mad. Lots of faces! Just when you think you've seen them all, there's more. And the funny thing about faces is, the more they look alike, the more they look different. Come celebrate the human experience and try to read the eyes of people you've never met.
---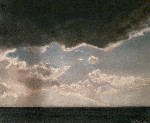 July 2 - August 3
Opening Reception: Thursday, July 2, 6-8pm
Gene Epstein
Recent Works
Gene Epstein is a familiar face here at Loganberry Books. In addtion to occassional work at Strong Bindery, Gene is the leader of Gene's Jazz Hot, which plays here every second Thursday evening, and she's part of the Altered Book Group which has had several exhibitions in the Annex Gallery. But she also works in watercolor, pastel, charcoal and paint, and this exhibit of her recent works features some of all these things. With a virtuoso power like this, you're sure to find something you like, so come check it out!
---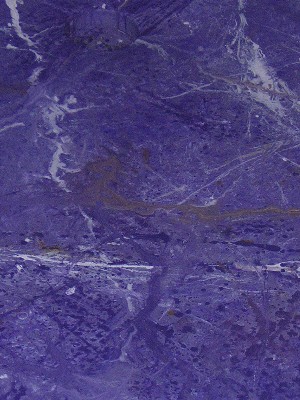 May 7 - June 29
Sidewalk Sale: Saturday, May 23
Flea Market & Festival Day: Saturday, June 27
Flea Market Specials
Larchmere Boulevard puts on a huge Flea Market & Festival on the last Saturday of June (this year, that's June 27). As our part of the celebration, Loganberry Books hosts a big Local Author Book Fair with dozens of authors. But we also bring out some interesting non-literary tidbits: vintage clothes, old school maps, Ronson table lighters, prints, dolls, and old toys. This year, we'll also have a collection of Royal Doulton figurines from the characters of Charles Dickens. In preparation for the big day, we'll use the Annex Gallery to start assembling our goodies. Keep your fingers crossed for good weather, and visit anytime in June for a sneak peak at our own Loganberry Flea Market.
---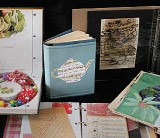 April 2 - May 4
Opening Reception: Thursday, April 2, 6-8pm
Altered Book Group
Food for Thought
The Altered Book Group joins us for their third spring show at the Annex Gallery, this year featuring cookbooks. Come see the wild imaginations at work on these three-dimensional wonders. What would a cookbook be if it wasn't… a cookbook? Artists include Myrna London Aidlin, Sarah Clague, Gene Epstein, Susan Donovan Lowe, Jacqueline Parsons, Myrna Tatar and Anne Weissman.
---
March 5 - 30
Opening Reception: Thursday, March 5, 6-8pm
Amy Lewandowski
Watercolors
Amy Lewandowski is a watercolorist with soul. In addition to commercial pieces [she created the watercolor used on the postcard for our neighbor Wool & Willow Needlepoint], she also creates a travelogue both real and imagined. Come enjoy a taste of spring, as only watercolor can attest.
---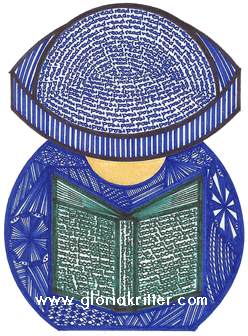 February 5 - March 2
Opening Reception: Thursday, February 5, 6-8pm
Gloria K. Ritter
Finding the Words
With her unique combination of color, patterns, and calligraphy, Gloria Ritter takes viewers on a journey of imagination. Her art, which she calls "word inspired design," is the result of her life-long fascination with words, language, and art. These elements come together to create a vivid synthesis of literary and visual arts. Gloria has always possessed a special sensitivity and passion for words. In her mind, words and passages assume a life and vitality of their own, which she communicates to viewers with her art. Described by the artist as "Where's Waldo" for grown-ups, her art expresses feelings both verbally and visually, conveying the written word along with all of the connotations, thoughts, and images that it evokes. Gloria was born into a family of gifted writers and artists of myriad ethnic backgrounds, which has inspired her style. These influences are expressed in her work and can be seen as Hispanic, Asian, Celtic, African, Middle Eastern, or even some combination thereof, depending upon the perspective of the viewer.
---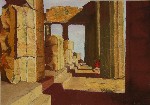 January 8 - February 2
Opening Reception: Thursday, January 8, 6-8pm
Ann Caywood Brown & Hugh Brown
Pastels, Polaroid Transfers & Poetry Broadsides
Ann Caywood Brown and Hugh Brown are a local couple with varied and intriguing artistic interests. Ann is a painter and photographer who has had many local shows, and who will be bringing a variety of her work to this Annex Gallery show. Her polaroid transfers are particularly fascinating, with a blend of the familiar and fantasy. Hugh has a most excellent collection of poetic broadsides, fine press pages of poetry rendered in a visual display that makes the work sing both in word and display. Some are by famous authors such as John Updike, and are signed. The Opening Reception is usually held on the first Thursday of the month, but we'll take a break on New Year's Day and celebrate on January 8th instead, with Gene's Jazz Hot playing next door in the LitArts room.
---
Annex Gallery Archives