2006 Exhibits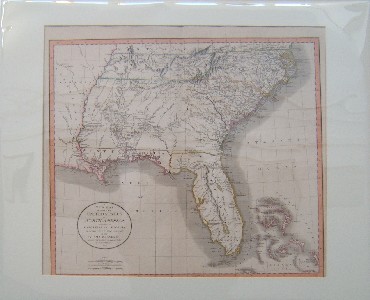 December 7-30
Opening Reception: December 7
The Antique Maps of John Cary and Alvin Jewitt Johnson
John Cary (1754-1835) began work as an engraver and set up business in London as a map publisher. He became one of the most prolific mapmakers of his time and was the first engraver to produce maps of utility by breaking the trend of highly decorative maps. Cary produced his maps for reference and practical use, compared to many of his predecessors whose maps had been produced as much as for works of art as for geographical reference. Alvin Jewitt Johnson (1830s-1880s) followed in the footsteps of mapmakers like Carey and Colton, producing high-quality and useful maps and atlases. Examples of both their work will on display and for sale in the Annex Gallery during December. The Cary maps are in mattes, the Johnson maps are beautifully framed.
---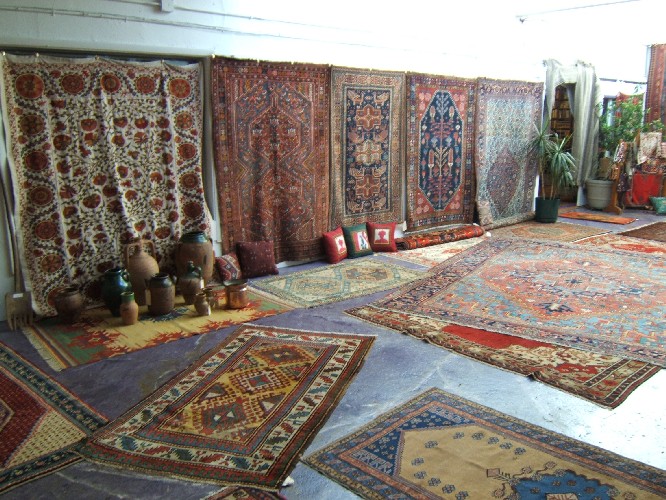 November 2-December 4
Opening Reception: Thursday, November 2, 5-8pm
Dede Moore
Return of the Flying Carpets
Long-time dealer and expert in Oriental Rugs, Dede Moore returns to the Annex Gallery with a treasure trove of woven art and Turkish treats. Dede has a knack for turning any space into a rich and colorful delight; her Gallery show last year was noted as a fantasical journey to another world. Come experience the magic, and take a piece home with you. Or perhaps the magic carpets will offer you a ride…
---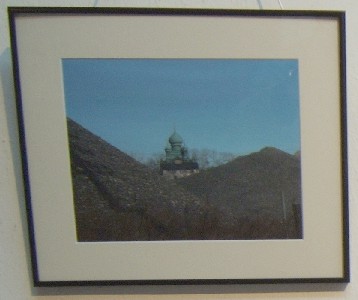 October 5-30
Opening Reception: Thursday, October 5, 6-8pm
Jon Abrahamson
Urban Wonderland
Jon Abrahamson is a Cleveland Heights resident who loves puttering around Cleveland on his bicycle recording the bitter and sweet tableaus that make this city charming and alarming. Come meet the artist and chat about photography, existence, etc. Show continues through October 30.
---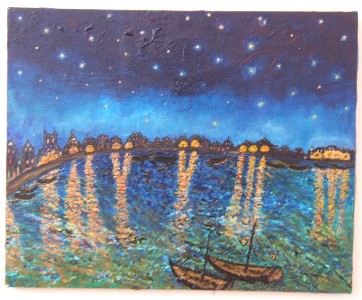 September 7-October 2
Opening Reception: Thursday, September 7, 6-8pm
Dawn Pierce
Before Dawn
This art show is a tribute to some master painters much enjoyed and admired. Like many artists, Dawn's desire to paint is driven by other artists. Having met Andy Warhol at a party, she recalls his words that every work of art is not original because it can be traced back to some other image. The work she has sold is kind of like creating a contact lens of another artist's eye. How wonderful that these works will be hanging somewhere besides the artist's own living room.
---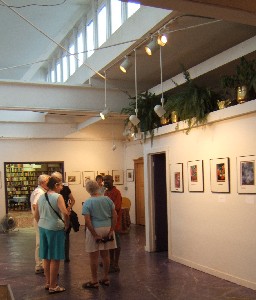 August 3- September 4
Opening Reception: Thursday, August 3, 6-8pm
Jeffrey Davis
Fine Nature Photography
Jeffrey Davis takes photographs up-close-and-personal. His subjects are in our own backyards and parks, but with such amazing clarity and magnification that they take on new meanings. His love for color, texture, and juxtaposition will make you smile and wish for summer to continue forever, even in the dog days of August. These beautiful images are made even more luxurious by Jeffrey's exquisite use of multiple mattes and fancy edging.
---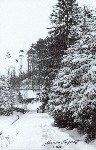 July 6-31
Opening Reception: Thursday, July 6, 6-8pm
James Cozart
Winter in Bavaria
When James Cozart was in the Army during World War II, he took his camera with him. These are not journalistic war shots however, but rather beautiful sweeping panoramas of the German countryside: mountains, valleys, and snow, in a luscious black and white depth that capture the deep nostalgia of a time gone by. New prints of these old negatives bring life to the quiet beauty of the snowy countryside of old Bavaria. Jimmy is a charter member of the Fine Arts Society, founded by Charles Pinkney, and also a long time member of the Karamu Camera Guild.
---
June 1-26
Opening Reception: Thursday, June 1, 6-8pm
Randy Jones
Digital Dreams
Columbus artist Randy Jones brings his computer enhanced images to the Annex Gallery for a show of heightened realism that melds into hypnotic surrealism. Come meet the artist and enjoy live music and refreshments, and ask him how he did it. Co-sponsored by Wild Plum Productions.
---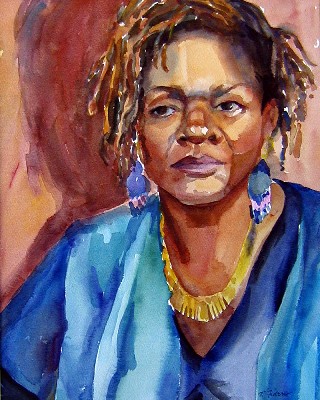 May 4-29
Opening Reception: Thursday, May 4, 6-8pm
The Brown Group
It Figures
The Brown Group is comprised of local artists Richard Wagner, Lois Durda, Donna Polack, Judy Pezdir, Du-Ing Lin, May Halliday and Toni Fiderio. They meet weekly at Browning Senior Center in Willoughby, working from a live model for 3 to 6 sessions per model. In their "former lives", this eclectic group made their living as art teachers, a gymnastics teacher, a nurse, a pharmacist, and an engineer. "While we have painted all our lives, we find our kinship in the silence of our own creativity as we paint together each week", says Donna Polack.
---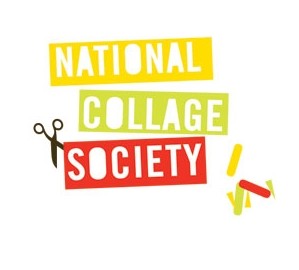 April 6-30
Opening Reception: Thursday, April 6, 6-8pm
Gretchen Bierbaum
Collage in all Dimensions
Two Cleveland girls are authors of a new art book titled Collage in All Dimensions. Gretchen Bierbaum attended John Marshall High School on the westside and Trina Gardner attended Cleveland Heights High, and they met at Kent State University in the 1960s. Gretchen founded the National Collage Society, Inc in 1982 and Trina joined the Board of Directors as an officer. Now they have co-edited a new book using 20 years of the National Collage Society juried exhibits. The book also includes a brief history of collage, archival approaches, and images from the award-winning collages, many of which will be on display in the Loganberry Annex Gallery. Artists, collage masters, scrapbookers, archivists, and modern art afficinados will all enjoy this new look into professional collage art.
---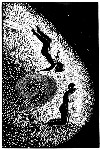 March 2-27
Opening Reception: Thursday, March 2, 6-8pm
Pamela Dodds
Block Prints
Pamela Dodds' exhibition consists of two series of block prints, including her LoveDance Series. The smooth, grainless linoleum texture allows for the cutting of a fluid, detailed line. The images depict the inherent struggles of an intimate relationship as a passionate duet. The Opening Reception coincides with the Faces of Fashion event.
---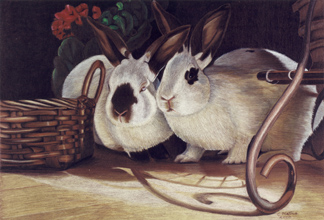 February 3-28
Opening Reception: Friday, February 3, 6-8pm
Guild of Nature Artists
Flora and Fauna
Artists associated with the Cleveland Museum of Natural History will display their various artwork of flora and fauna in a range of styles and media. Come meet the artists and enjoy the natural world as seen by naturalists, nature afficionados and local artists.
---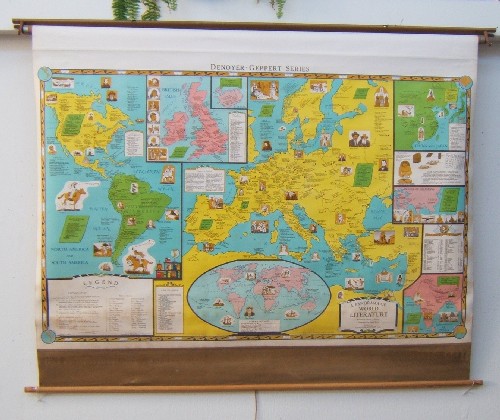 January 10-31
Vintage Classroom Maps
Remember your old elementary school classroom and the great big maps that used to roll up like window shades? This Annex Gallery show features some vintage maps, literary heritage maps, and other teaching tools from the 1960s. They'll be on display during the month of January, and available for purchase.
---
Annex Gallery Archives