2008 Exhibits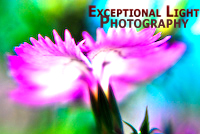 December 4 - 29
Opening Reception: Thursday, December 4, 6-8pm
David Perelman-Hall
Exceptional Light
David Perelman-Hall is a photographer residing in Cleveland Heights whose work includes portrait, landscape, nature, close-up, and digitally-altered fine art photography. He blends powerful use of lighting with natural and man-made scenes to produce images that are simultaneously accessible and abstract.
---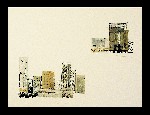 November 3 - Decenber 1
Opening Reception: Thursday, November 6, 6-8pm
Karen Beckwith
The Authority Series
In this series of work, Karen explores the realm of secrets through the use of aquatint. The Authority series focuses on the home, in particular, using the image of a key as a visual catalyst. After discovering the hobo system of communication, which is a series of house symbols instructing travelers where it is safe to stay, a secret language abounds and hides within the work. Some safe houses are for women only or women traveling with children. This led to the use of simplified house images to symbolize a broad concept of the family within the community.
---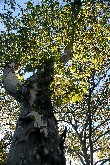 October 2 - November 3
Opening Reception: Thursday, October 2, 6-8pm
Diane Schwartz
The Sycamores of Wicklow Road and Other Natural Wonders
Shaker Heights native Diane Schwartz has travelled the world… and photographed the local trees. Three distinctive trees come into special focus in this exhibit: the stately ancient olive groves of Egnatza, Italy, the wind-pruned oaks of Okracoke Island, North Carolina and haunting beauty of Shaker Heights' sycamores. Both framed and matted photos will be available for sale, and plenty of stories of travels and views from Diane. Refreshments and a musical treat will be served.
---

September 4 - 29
Opening Reception: Thursday, September 4, 6-8pm
Chin-Tsai Liao
The Journey of Harmony: Chinese Calligraphy & Paintings
A well-known artist in Taiwan, Chin-Tsai Liao, brings his excellent Chinese calligraphy and watercolor paintings to his American debut here at the Annex Gallery. Liao studied calligraphy from Master Tien-Su Huang, and is now the executive director and instructor of Taiwan Calligraphy and Painting Education Association. He has won numerous awards in Taiwan for calligraphy and now runs a gallery called Huang Hsueh Art Gallery in Chang Hua City, Taiwan. Loganberry was pleased to be featured about this show in the Erie Chinese Journal.
---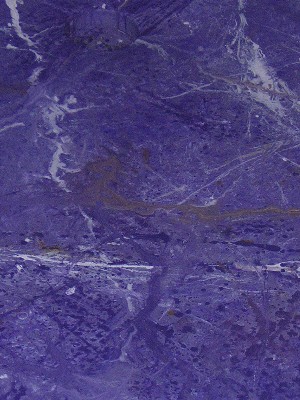 August 7 - September 1
Opening Reception: Thursday, August 7, 6-8pm
L'Atelier d'Arte
Objet d'Arte
Three Shaker Heights artists, Maurice Perkins, Minako Akamine Wreen and Joy Cusi Griffith, share a studio and creative inspirations together. Their backgrounds and media are rather different however, so you can enjoy diverse outcroppings of their artistic aspirations and cultural influences. Come meet the artists, enjoy international refreshments, and encounter something new.
---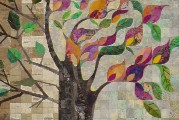 July 3 - August 4
Opening Reception: Thursday, July 3, 6-8pm
Contemporary Cloth Artists
Words to Live By
The Contemporary Cloth Artists are local quilt makers who turn the idea of stodgy old quilts upside-down. By incorporating words, images, patterns and vibrant colors, this quilt show is part textile art, part poetry slam. Come see the integration of words and texture in this visual treat.
---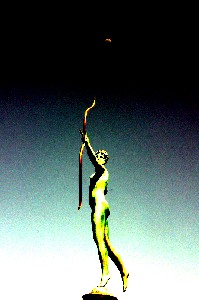 June 5 - 30
Opening Reception: Thursday, June 5, 6-8pm
Terry Michelle
Fear, Death & Fascination
Even professional photographers need to experiment and play. Wedding photographer by day, Terry Michelle will showcase her abstract and modern photographs, collages and digitally enhanced photographs in the Annex Gallery exhibition. Opening reception with Terry is always a party, and with luck, she'll have live music, too.
---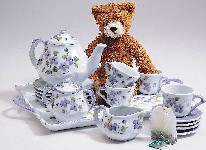 May 1 - June 2
Opening Reception: Thursday, May 1, 6-8pm
Ann Douglas
Vintage Children's Things
Ann Douglas has been a collector and dealer of vintage things for decades, and she has a soft spot for old children's things: toys, books, puzzles, dolls, tea sets, games, ephemera, etc. There comes a time when your personal collection begins to usurp the space in your house however, so Ann has decided to sell some the treasures she has gleaned over the years. Most of these treasures have been in Ann's personal collection, and as a dealer, you know she's seen some wonderful rarities, oddities and gems. Now they can be yours.
---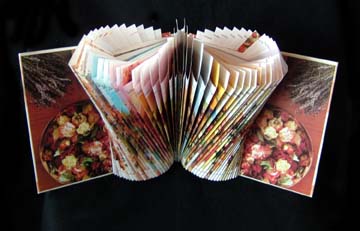 April 3-28
Opening Reception: Thursday, April 3, 6-8pm
Altered Book Group
Red Book Project II
An encore Annex Gallery show featuring the imaginative works of several local artists who create entirely new works of art out of crusty old tomes. This year, they each had a volume of the turn-of-century Book of Knowledge, and they each did something different with it. Artists include Myrna London Aidlin, Sarah Clague, Gene Epstein, Margaret Yuko Kimura, Terre Maher, Lynn O'Brien, Jackie Parsons, Myrna Tatar and Anne Weissman.
---

March 6 - 31
Opening Reception: Thursday, March 6, 6-8pm
Carolyn Fitzgerald
Conscious
Before Carolyn Fitzgerald ran the excellent Cafe Limbo, she was an artist. Now she's returned to her roots, and is featuring large-scale oil abstract paintings in this Annex Gallery show. Come say hello and see the other creative side of Carolyn Fitzgerald.
---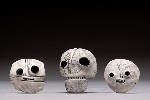 February 7 - March 3
Opening Reception: Thursday, February 7, 6-8pm
Mark Yasenchack
Collage and Valentine's Skulls
When I first saw Mark's small ceramic skull sculptures, like gothic masks with macabre humor, I wanted them all, and I wanted to see them act their lives out on stage, or perhaps in graphic novel format. When Mark said he was interested in having an Annex Gallery show here in February, I was delighted, but even more so with his title of Valentine's Skulls! Oh, every sweetheart needs one! Mark also does some large-scale abstract paintings, and these will also be featured in this show.
---

January 3 - February 4
Opening Reception: Thursday, January 3, 6-8pm
Janeen Hobby
Voyages
Local photographer Janeen Hobby has traveled to Europe, Southeast Asia and Yemen to being us views of people and places we might not know firsthand. Her eye is exacting and engaging, and she's bringing in a whopping 45 framed photographs for one of largest single-artist Annex Gallery shows yet. Come meet the artist and drink a toast to the new year.
---
Annex Gallery Archives