2010 Exhibits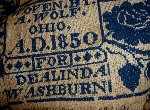 January 7 - February 1
Opening Reception: Thursday, January 7, 6-8pm
Early American Quilts & Coverlets
This collection of early American crafts features quilts, coverlets, embroideries and baskets. Among the textiles is a wonderful signed 1850 Ohio coverlet, a fabulous crazy quilt dated 1898 and several grandmother's flower garden patterns. There are also two Persian paisley shawls, some beautiful embroideries, and a silk kimono. But mostly there are quilts, ranging in date from 1850-1950, and many Ohio heirlooms. What a nice, warm, winter crafts exhibition.
---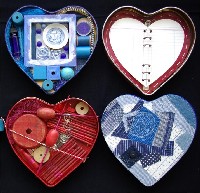 February 4 - March 1
Opening Reception: Thursday, February 4, 6-8pm
Anne Weissman & friends
Tin Hearts Transformed
Picture an old tea canister filled with your grandmother's collection of odd buttons, or a heart shaped red candy box stuffed with postcards and Polaroids. Imagine what a group of artists could make from thirty empty heart shaped cookie tins! Anne Weissman invited a group of book artists, collage makers, sculptors and potters to take tins to their studios and transform them using the materials and methods of their choice. The resulting artworks range from the contemplative to the exuberant . They are as individual as are the hearts and imaginations of their creators.
---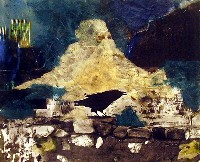 March 4 - 29
Thursday, March 4, 6-8pm
Village Art Studio
Pastel Paint Wax
Ronnie Jeter, Melinda Placko, and Shelley Robinson meet weekly at the Village Art Studio. As mixed media artists, they create images which unite a variety of materials including pencil, paint, paper, pastel, wax, charcoal, photo collage, and fabric. By pushing the limits of creativity and material, they are discovering natural textures, gutsy landscapes, southwest color, and the meditation of silence. Come and join the exploration.
---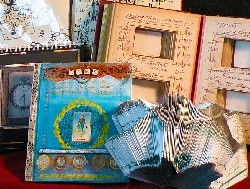 April 1 - May 3
Opening Reception: Thursday, April 1, 6-8pm
Altered Book Group
Time
The Altered Book Group joins us for their fourth spring show at the Annex Gallery, this year featuring creations built around the concept of time. Come see the wild imaginations at work on these three-dimensional wonders. How would you picture time&hellip using an old book? Artists include Phyllis Brody, Sarah Clague, Gene Epstein, Jacqueline Parsons, Ellen Takas, Anne Weissman, & Anonymous.
---

May 6 - 31
Opening Reception: Thursday, May 6, 6-8pm
Sheila N. Markowitz
Hangin' at the Gaugin Cafe
Sheila N. Markowitz uses her computer to merge her photographs, snapshots and scans of other materials in myriad and subtle ways. She sees her process as a metaphor for how the mind overlays experiences, blurs and blends them in memory, reconciles disparate points of view to create coherence. Markowitz works intuitively, dialoguing with her art as it evolves throught a host of incremental decisions. Each montage element connects to a personal story that is rarely evident in the finished work. Instead visual surprises, ambiguitities, and hints of narrative invite viewers to construct their own artful fictions.
---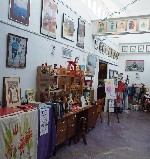 June 3 - July 5
Flea Market & Festival Day: Saturday, July 3
Flea Market Specials
Larchmere Boulevard puts on a huge summertime Flea Market & Festival (this year, that's July 3). As our part of the celebration, Loganberry Books hosts a big Local Author Book Fair with dozens of authors. But we also bring out some interesting non-literary tidbits: vintage clothes, old school maps, Ronson table lighters, prints, dolls, old toys, and lots of prints and posters. In preparation for the big day, we'll use the Annex Gallery to start assembling our goodies. Keep your fingers crossed for good weather, and visit anytime in June for a sneak peak at our own Loganberry Flea Market.
---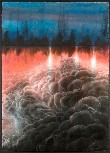 July 8 - August 2
Opening Reception: Thursday, July 8, 6-8pm
Judith Brandon, Karen Kunc & Randall Tiedman
This Turbulent, Beautiful Earth
Judith Brandon likes to scratch, stain and paint her mixed media on paper works to the extent that they become more like the turbulent weather or cataclysmic events they portray. Karen Kunc is a master printmaker, creating colorful, often odd-shaped woodcut prints inspired by a metaphysical approach to the natural world. Randall Tiedman's vast landscapes often make the viewer wonder where they might be? The fact is that they are all made up in the artist's head, memories and fragments of places real and imagined. Together, these artists introduce us to our world in new ways, re-configured through complex visual techniques in two-dimensional artforms.
---

August 5 - 30
Opening Reception: Thursday, August 5, 6-8pm
Meili's Acquisitions
Chinese Papercuts & Peasant Paintings
Paper cutting is an ancient art developed by the peasants in China. Papercuts are made all over China and each region has its own characteristic style. Many of the papercuts in this collection are from Ansai and Luochuan Counties – remote areas in Shaanxi Province. Peasant Painting began in an effort by the Chinese Communist Party to develop a new art form which would come from the peasants, the backbone of the Communist movement. With the relaxing of Party control, the themes of modern folk painting focused on the customs, habits, legends and work of the laboring people.
---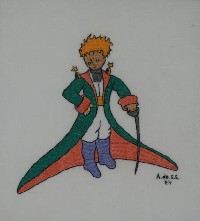 September 2 - 30
Opening Reception: Thursday, September 2, 6-8pm
Eugenia Vainberg
Illustration in Embroidery
Eugenia Vainberg learned the art of embroidery as an eight year old child living in Ukraine. She emigrated to the United States in 1977, where she became involved with a quilting group in Cleveland. Of her work, the artist says, "Colors are music to me. Tonalities of colors, shades and hues create the feeling of melodies in me. Embroidery became an important part of my life, a way of self expression and reflection. It is very exciting to translate from the languages of different media into the tongue of embroidery."
---

October 7 - November 1
Opening Reception: Thursday, October 7, 6-8pm
Koichi Yoshida
A Light on Japan
A keen amateur photographer of flowers, birds and scenery all his adult life, Koichi Yoshida, now aged 89 and living in Japan, for many years worked for Canon Camera as a camera engineer. These photographs are a small selection of some of his finest work. He has won many awards for his photographs in amateur competitions. Koichi Yoshida is Kayoko Irie-Frey's father. Kayoko owns and runs the Flying Cranes Café across from Loganberry Books.
---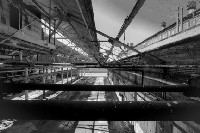 November 4 - 29
Opening Reception: Thursday, November 4, 6-8pm
Lauren Pacini
Urban Photography
Lauren Pacini returns to Loganberry Books with selected black and white photographs from three urban-themed collections. The first details "The Death and Rebirth of the Midwest Industrial City," while the second examines the work of "urban artists," whose canvas includes walls, water towers, under-passes, and rock formations. The third is from a collection called "Reflecting on Cleveland." The exhibit of black and white fine art photography focuses on familiar sights which we drive past daily but which we rarely really see.
---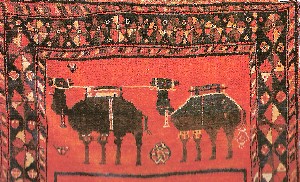 December 2, 2010 - January 3, 2011
Opening Reception: Thursday, December 2, 6-8pm
Dede Moore
The Karavan Returns
Dede Moore, a longtime and knowledgeable merchant of oriental rugs, will exhibit antique and new oriental rugs in the Annex Gallery during the month of December. She will also feature lots of ethnic gift items: jewelry, pillows, ceramics, kilim sweaters, shoes and purses. During the Opening Reception on Thursday, December 2, at 7:00pm, Dede will also present a powerpoint presentation on Woman's Work: Oriental Rugs, People and Places. Email Dede at dede@logan.com if you have a particular rug need or request.
---
Annex Gallery Archives